To keep informed on the most up to date, rapidly evolving information please visit COVID- 19 Information – Mamaway Wiidokdaadwin
COVID-19 Vaccination Information
Information about COVID-19 Vaccines for Indigenous Communities
All Indigenous adults 16 years of age or older, living in the Simcoe Muskoka Region are able to book an appointment to receive the COVID-19 vaccine. The time between Dose 1 and Dose 2 is 21 Days for Indigenous adults.
Non-Indigenous adults who live in the same household as an Indigenous adult receiving the vaccine and are 16 or older are also able to book an appointment. Every adult in the household must book their own appointment and households should book appointments for the same time.
Appointments can be booked online.
NEED HELP BOOKING? Contact a Vaccine Coordinator:
705-826-0575 (9am to 5pm Mon – Fri)
705-790-9863 (11am to 6pm Wed – Fri)
705- 790-9986 (11am to 6pm Tue – Sat)
Indigenous Community Clinics and Mass Immunization Clinics:
You have the option to book your vaccine appointment at an Indigenous Community Clinic OR at a mass immunization clinic. Indigenous Community Clinics are clinics for Indigenous community members only while mass immunization clinics offer appointments to anyone who is eligible for a vaccine. Both types of clinics offer the same vaccines.
Indigenous Community Clinics:
May 18 in Barrie at Holly Recreation Centre
May 21 in Midland at North Simcoe Rec Centre
May 25 in Orillia at Rotary Place
May 28 in Midland at North Simcoe Rec Centre
All the other listed appointments at the above link are Mass Immunization clinics.
Useful Information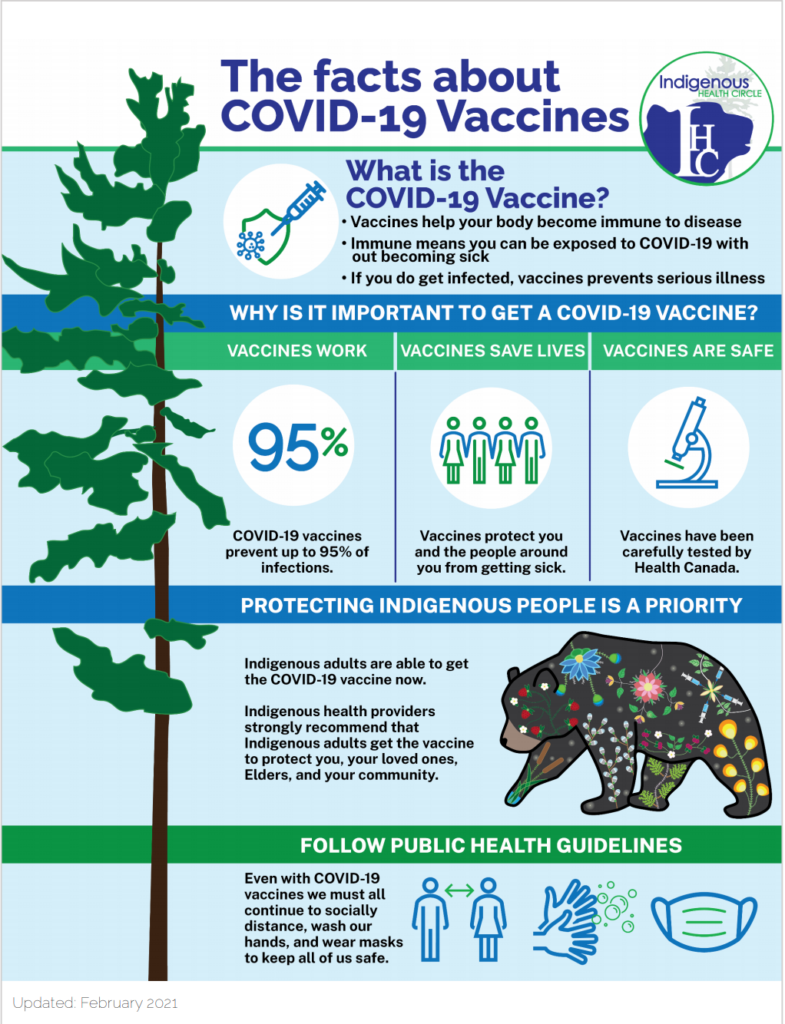 Maad'ookiing Mshkiki—Sharing Medicine
Maad'ookiing Mshkiki – Sharing Medicine is a virtual hub that shares culturally relevant and trauma-informed information about COVID-19 vaccinations for First Nations, Métis and Inuit. More information can be found on the Maad'ookiing Mshkiki webpage.
Frequently Asked Questions
Do you have questions about the COVID-19 vaccines? These FAQ sheets have information on the vaccines and how they support you to stay healthy in mind, body, spirit, emotions, community and truth.
Declaration of Indigenous Ancestry
Right now, there are not enough vaccines for everyone in the public who wants a vaccine to get one. Indigenous communities have been identified as high priority to get the vaccine. In order to make sure Indigenous community members can get the vaccines now, clinics will be requesting identification. As more vaccines become available, the need for identification will be reviewed. A form and FAQ sheet have been created to support you.
COVID-19 Assessment Centres
Before visiting an assessment centre, you should first seek guidance from your primary care provider on whether it is appropriate for them to do so.
Ontarians can also do so by:• Calling Telehealth Ontario: 1-866-797-0000• Calling the Simcoe Muskoka District Health Unit: 705-721-7520, 8:30 a.m. – 8 p.m. and weekends 8:30 a.m. – 4:30 p.m.
You should not go to an assessment centre unless you have COVID-19 symptoms.
At the assessment centre, you will be seen by a healthcare professional, who will provide you with the necessary care and instructions for follow up, if required.